At CHG, we value our employees as whole people who have families, obligations, and busy lives outside of the workplace. Their time is valuable — and all too often a scarce resource. Between the daily commute, list of errands, and other day-to-day running around, it's easy to use up what little time we have at the end of the day, leaving no time for ourselves. By respecting our people's needs both in and out of the 9-to-5, they're able to be their best every day. That's why CHG offers on-site benefits to provide more flexibility and save our people time, energy, and the stress of trying to fit everything into their schedules.
Health and wellness
[caption id="attachment_9631" align="alignright" width="375"]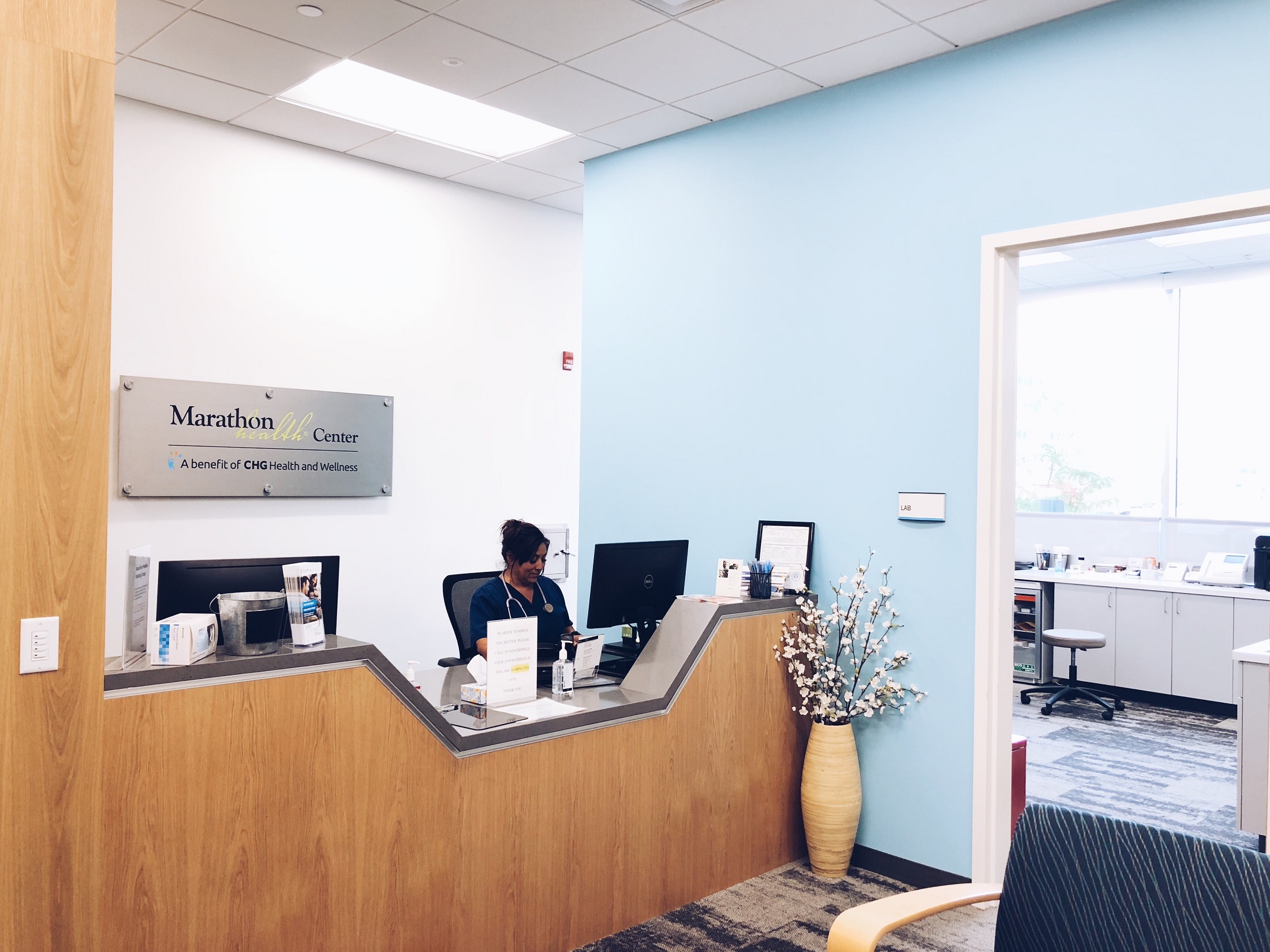 Marathon Health on-site clinic in our Midvale office[/caption]
In addition to offering standard health insurance benefits, CHG partners with Marathon Health to provide comprehensive primary care, acute care, mental health counseling, and health coaching services in house. At our on-site health clinics in our Salt Lake, Durham, Fort Lauderdale, and Boca Raton offices, our people and their dependents can conveniently schedule appointments with knowledgeable medical professionals at no cost, regardless of whether they are enrolled in CHG's health plan or have other insurance. During COVID, these services are available virtually. 
Business systems analyst Travis Green, who works in our IT department, scheduled an appointment at our on-site clinic in Salt Lake after experiencing persistent headaches. What started as a routine checkup turned into something more serious. But, with the help of one of the nurse practitioners on staff, Travis was able to get the help he needed.
Read more about Travis's story here.
With a focus on preventive care and chronic condition management, our people use less PTO for doctor's appointments and sick days and see a reduction in overall healthcare costs.
During her first pregnancy, Tiffany Pearson, credentialing specialist for our RNnetwork division in Boca Raton, visited our on-site clinic every day to monitor her blood pressure. When she developed some worrisome symptoms, she talked to the nurse practitioner at the clinic who referred her to an endocrinologist. This led to the discovery that Tiffany had prehypertension, which poses risks for both mom and baby if it's left untreated. By working with an endocrinologist and the nurse practitioner, Tiffany was able to manage her symptoms and stay off medication for the duration of her pregnancy.
"Having access to our on-site health clinic meant the world to me," says Tiffany. "When you have a busy work schedule, slacking on your health is unfortunately all too common. But, working for a company that prioritizes the health and wellness of its employees motivates me to stay healthy."
Most of our locations also have counselors on staff to provide free counseling for depression, anxiety, substance abuse, stress management, and other mental health concerns. At all of our locations, we offer free flu shots, biometric screenings, health coaching, and other preventive care services. Combined, these benefits allow our people to take a more active and engaged role in their own healthcare.
Workplace workout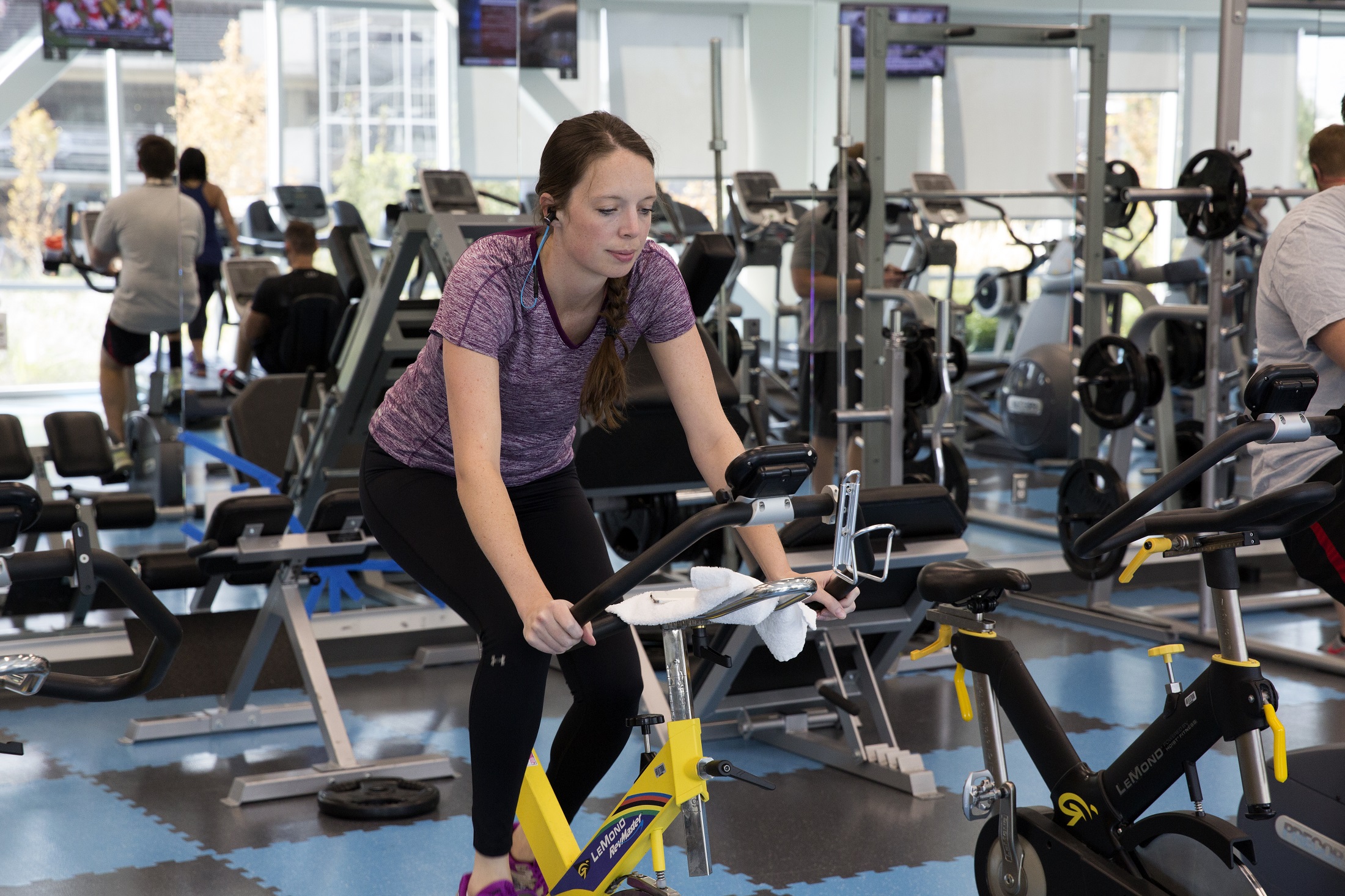 A key component of promoting a healthy workplace is physical fitness, and if we can make working out more convenient for our people and eliminate cost as a hurdle to wellness, we're all about it. Several of our locations have on-site gyms and fitness rooms that our full-time and part-time employees can use free of charge.
We also offer guided group fitness classes, many of which are taught by our very own people. Shauna Coleman, housing coordinator at CHG headquarters in Salt Lake, has been teaching high energy Jazzercise classes in our group fitness room for five years. Describing what this benefit means to her, Shauna explains, "I truly appreciate how much CHG values its employees by promoting healthy living. Having access to workout equipment and fitness classes in the comfort of your own workplace is an awesome benefit to all of us. I appreciate that I have the opportunity to do what I love right here at work and share it with others."
In our offices that are not big enough to have on-site gyms, and for our remote employees, we offer an annual gym advance benefit. Receiving this benefit is simple: our employees fill out a gym advance request form, enroll in an annual membership at a gym of their choice, and CHG will provide an advance for the cost, up to $180 per year.
As a member of the wellness committee in her office, Maria Gardner, manager of administration for our CompHealth division in Grand Rapids, helps promote our various wellness programs and inspire others to take an active role in their health. It wasn't until CHG launched its gym advance program that Maria decided to get a gym membership herself.
"The gym advance program is a terrific benefit to have," says Maria. "I've used this benefit since it was first introduced, and I know others in the office who all joined a local gym together. It's so reassuring to know that I work for a company that genuinely cares about my health and well-being."
NOTE: Gym services are currently unavailable during quarantine and will return as offices fully reopen. 
At CHG, we recognize that health and wellness is not a one-size-fits-all benefit. Our goal is to create a culture where our people choose to live healthier lifestyles by providing options that work for them.
If you're interested in working for a company that prioritizes wellness in the workplace, head over to our open jobs now!