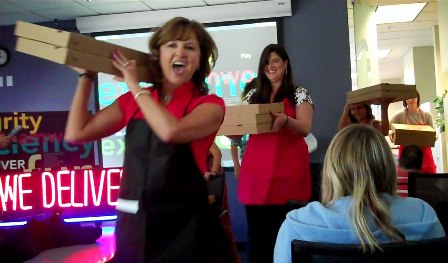 The CompHealth allied health staffing division in Grand Rapids, Mich., is Getting Back to Growth through a new mission statement, including company values and principles.Launched June 30, the new statement was refreshed to better reflect how the division delivers in today's healthcare staffing industry.
With input from the entire Grand Rapids staff, the process began earlier this year with several office-wide brainstorming sessions facilitated by division president Sandra Raehl. In the sessions, team members were asked to comment on what they are most proud of and passionate about, how they lead and work, their goals as teams and the division's promise.
A "mission team" of seven -- Brent Alles, Genevieve Sandner, Kelsey Legate, Melissa Eden, Paul Petersen, Sarah Postma and Therese Kelly -- volunteered to pull the brainstorming ideas together and present the final mission statement, values and principles to the division.
During an Employee Appreciation Week launch, the mission team presented the following mission statement, which is also displayed on a wall-size mission card:
Mission Statement: We Deliver
Values: Integrity, Teamwork, Efficiency, Fun, Excellence
Principles:
We are passionate about quality.
We strive for personal growth.
We seek solutions.
We share our expertise.
We lead with respect.
We build positive relationships.
We advocate for our customers.
We take calculated risks.
We celebrate each other's successes.

A neon sign featuring the statement "We Deliver" was also unveiled during the launch while employees enjoyed pizza and chocolate "teamwork" puzzle pieces.
Steve Gingrich, the marketing brand manager for the division, says he and marketing director Tricia Warnken, along with a team of graphic designers, put together several visual concepts using the mission, principles and values statements.
"The colors and arrangement of the final sign show a bit of that 'fun' value and use the 'We Deliver' message as a strong anchor," Steve says. "When the creative team got their hands on the 'We Deliver' concept, one of our designers immediately jumped on the neon sign idea and found a source. What a great way to have a constant reminder of your mission literally lighting up your workspace!"
Paul Petersen, director of allied staffing and member of the mission team, says, "It was awesome to see all levels of the Grand Rapids team engage with great ideas, well-thought out strategies and clear direction. The new mission statement is direct, simple and very descriptive. There is no question: WE DELIVER!"
Brent Alles, team member and client representative on the speech pathology team, says the most rewarding part of the brainstorming process was hearing the insights and opinions of other team members.
"I think we all worked effectively to come up with what we truly want our message to be to our clients, providers and coworkers moving forward," Brent says. "I feel that the mission statement gives us a renewed sense of purpose regarding what we bring to our clients and providers. 'We Deliver' is not just a pithy statement but a promise of what we are going to bring to our clients and providers moving forward."
Check out a four-minute video of Grand Rapids employees discussing the division's values below!