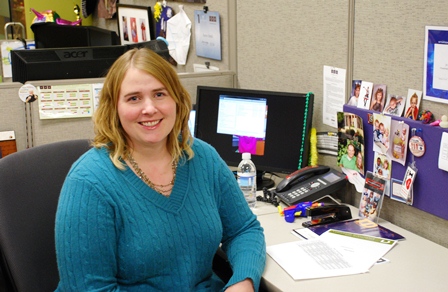 In the Going Places series, we profile leaders at CHG and discover what they've learned throughout their time at the company.
Name: Rachel Gober
Position: CHG's manager of training and development
Years with CHG: 3.5
What is your most memorable experience at CHG?
There are so many, it's hard to choose just one! I would say the day we found out that we had made Fortune magazine's Best Places to Work For list with such a high ranking.
What is your career background and what brought you to CHG?
My career background was sales and sales management with some training experience as well. I had recently moved back to Utah from Portland, Ore., and was looking for a company that could provide a great environment along with personal growth. When I saw the job opening at CHG, I jumped at the chance to come onboard.
What have you learned about yourself working at CHG?
I remember something I heard Don DeCamp [CHG's former chief people officer] say in his advice to leaders: "Take your job seriously, but never take yourself seriously." I think the longer I spend at CHG, the better I have learned to do that.
How have you grown as a leader at CHG?
There are so many opportunities for training as leaders at CHG. From LEAP to LEAD and Situational Leadership, I have had so many opportunities to learn how to be a better leader. I have learned to lead, rather than manage, tasks and to not sweat the small stuff.
Who has influenced you most in your career at CHG and how?
There are so many people – Wayne Davis for helping me grow into this leadership role, Julyn Terry for her huge amount of knowledge about the company and her calm leadership style, Jolene Isom for her passion for training leaders and Kevin Ricklefs for the things he has taught me about leadership. I don't think I could pick just one of them. I am so grateful to them all.
What is your favorite part about your job?
My favorite part is to see someone on my team's success. I am really proud of what they have been able to accomplish and love to be able to see their growth.
What do you like to do when you aren't at work?
I have two Labradors that take up a lot of time and energy. My husband and I enjoy hiking with them and the countless hours of fetch.