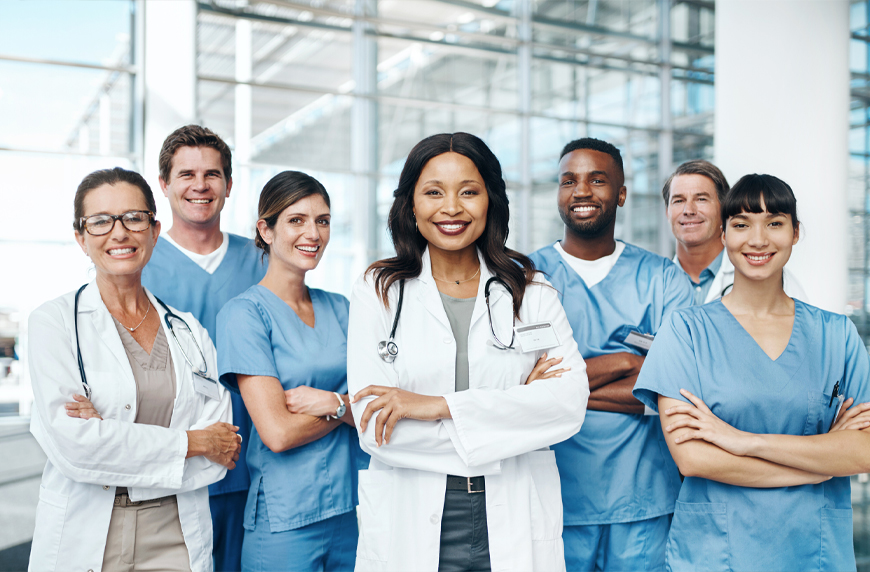 On December 10, 1948, gender equality was made part of international human rights law by the Universal Declaration of Human Rights, when it was adopted by the UN General Assembly. This milestone document recognized that "Everyone is entitled to all the rights and freedoms set forth in this Declaration, without distinction of any kind, such as race, colour, sex, language, religion, … birth, or other status."
Even so, the feminist movement didn't gain traction until the '70s, when the General Assembly adopted the Convention on the Elimination of All Forms of Discrimination against Women (CEDAW) in 1979.
However, this obviously wasn't the end of gender inequality. And for those of us working in the field of healthcare, we're still seeing a disparity between male and female representation on many different levels: from leadership positions in hospitals and physician groups to representation of women in medical specialties. And even more unfortunately, gender bias is even reflected in the way male and female patients are treated by physicians.
Gender inequality in healthcare
In the healthcare field, gender inequality persists as evidenced by the numbers: women make up 80% of healthcare workers — but just 40% of executives. And as the organization chart rises, the number of women leaders falls: there are only 43% of female executives versus 57% of male executives.
Another issue is pay disparity between male and female clinicians. For example, according to the 2021 Medscape Physician Compensation Report, male primary care physicians earn $269,000 to women's $211,000; among specialists, the gap is even greater: women specialists earn $93,000 less per year on average than men. This has not gone unnoticed by the AMA, who adopted a new policy in their 2018 AMA Annual Meeting that took sweeping action to study, act, and advocate to advance gender equity in medicine and within the AMA.
Even though these numbers are disheartening, there are steps we can take to close the gender gap.
Tackling gender bias
One of the first steps toward ensuring true gender equity in your organization is identifying how gender bias is affecting the staffing decisions you make. At CHG Healthcare, preventing bias in our staffing has long been a major priority for us, but we have also come to recognize that we have a responsibility to make sure implicit (or unconscious) bias isn't affecting our hiring and promoting practices either. Just recognizing that bias can be a problem is the first step toward eliminating it from your decision-making processes.
The next step is true accountability. This means having a way to check that the decisions being made about which candidates to hire or which employees to promote are based on qualifications and skills, and not influenced by bias about the individual's gender. One way we're working to address this challenge at CHG is by assigning an accountability partner to support the leaders doing the hiring or making decisions about employee advancement. Although this initiative is still in the pilot phase, we believe this is an important step toward holding ourselves accountable for how equitably we treat our people — both those who currently work for us and prospective employees as well.
We believe it is critical that all healthcare leaders work to identify and eliminate gender bias in their organizations. Only by holding ourselves accountable will we be successful in providing opportunities for all employees to grow and advance equally.
Mentoring programs
Although organizational changes are critical to this effort, individuals can make a big difference in empowering women as well.
At CHG, our leaders are expected to act as mentors and help women develop in their careers. Whether formal or informal, mentors can help women feel validated and comfortable raising their hand for leadership opportunities. The support of mentors in leadership can also encourage women to speak out with less fear of retribution when they're feeling disenfranchised or are seeing inequal treatment within their organization.
A valuable resource for organizations looking to develop leadership opportunities for women is the Women's Leadership Institute (WLI). Their mission is to elevate the stature and talents of women in business and board rooms. WLI's ElevateHER challenge is a pledge organizations can take to elevate the stature of women's leadership in their companies, and it's a great tool to help your organization adapt its own policies within its unique structure to meet your commitment to combating gender bias.
DEI as its own business initiative
At CHG, we believe healthcare organizations need to treat diversity, equity, and inclusion (DEI) as a business priority with the same rigor as any other major initiative. If an organization is serious about making meaningful changes toward providing equal opportunity, it's critical have to have a plan, goals, and a way to measure your progress, just like you would with any other business imperative. This means investing in the necessary resources — both financial and people dedicated to the work — to make meaningful changes.
True gender equity is attainable, but it will require the combined efforts of both organizations and individuals to achieve it. Together we can make a difference!
Leslie Snavely, Chief Sales Officer, CHG Healthcare
Melinda Geise, Sr. VP, Enterprise Client Solutions, CHG Healthcare
Christine VanCampen, VP, Diversity, Equity and Inclusion, CHG Healthcare