After weeks of meeting high goals, including increased days, and increased average daily gross margins and bill rates, the Foundation Medical Staffing division in Edmond decided to celebrate in their "spare time" August 3.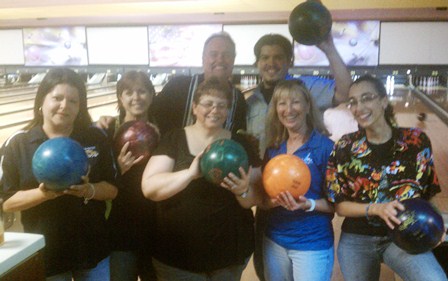 Once everyone arrived at AMF Boulevard Lanes in Edmond, the division divided into teams of five to bowl -- with slightly different rules. Each frame required different skills, including bowling left-handed or right-handed, backwards, between the legs of teammates or holding hands with a friend. Employees also enjoyed pizza, nachos, pretzels and cold sodas while bowling.
"It was a wonderful reward for some long hours and dedicated folks pushing to make a difference, to get better and to build a company ready to explode," shares Travis Nunley, client account manager at Foundation Rehab Staffing. "I'm not sure what will be next in line for our fun time together, but rest assured -- the Foundation team will give it 100 percent, work and play."