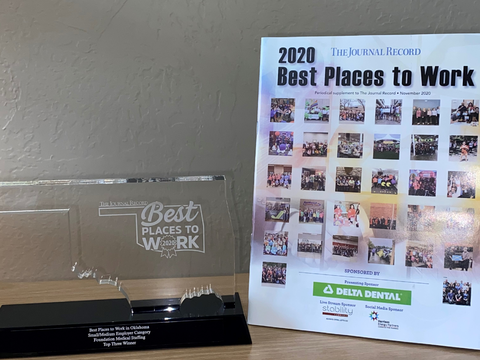 CHG Healthcare's Foundation Medical Staffing division has been named one of Oklahoma's Best Places to Work. In a survey conducted by The Journal Record and the Best Companies Group, Foundation Medical Staffing was named No. 2 in the small to medium sized businesses category. The company was honored for creating a quality workplace.
Nathan Allison, senior director at Foundation Medical Staffing, said, "Our primary core value is Putting People First. We have an incredible team dedicated to helping nurses achieve their goals and provide quality healthcare to patients within their communities. This award really speaks to their commitment to taking care of both of their nurses and each other."
Companies are selected for the award based on results from an employee survey. Sarah Barrow, with The Journal Record, said, "The top companies selected have strived to keep a work-life balance with their employees. Even during the early days of COVID-19, these companies were able to maintain their company culture while working remotely."
This is the eighth year Foundation Medical Staffing has been recognized as a Top Workplace for their outstanding employee engagement.