Francesca D'Amico, a hospital privilege coordinator at CompHealth locum tenens in Salt Lake City, Utah, says that CHG is the best company that she has ever worked for. Along with the free coffee, she loves the sense of ownership and personal responsibility she is able to enjoy in her role here. Ultimately, Francesca believes that working together is the key to success at CHG, whether it's getting a physician through hospital doors or painting a masterpiece depicting CHG's core values.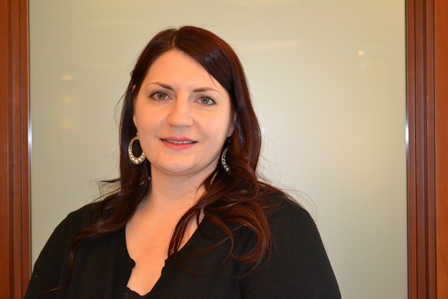 What do you do at CHG and what do you like about your job?
I'm a hospital privileges coordinator. I like that my job is challenging. It keeps me on my toes, and for my personality, this job suits me because of all the details involved. I also love my sales team. I could go on and on about my sales team; they are so phenomenal to work with and make it so great to work here.
When did you come to CHG?
I started on January 9, 2012.
How did you hear about CHG and what made you want to apply?
The company I was working at was laying off our division and my friend emailed me saying that she knew of an amazing job that I would be perfect for. Truth be told, she was right. It works well with me and she knew it would be a good fit.
Where were you working before you came to CHG?
Regence Blue Cross and Blue Shield.
How has working at CHG compared to your other working experience?
This is the best company that I have worked for by far. First of all, unlike other places, the actual job itself is better because it has more responsibility and ownership. Instead of people constantly watching over my shoulder, it is my responsibility to see that I get the work done. At the end of the day, no one checks the number of calls I made. I need to be satisfied. That's really the culture here at CHG. You can see it and feel it: There is a sense of responsibility. Overall, people want to be here, and want to be their best and to be satisfied in their work.
What can you tell me about your first day?
It was a meet and greet sort of day: I got to sit with people on my new team, see what hospital privileges did and how my job fit in with the rest of CHG. I hung out with my new bosses and got to use the really cool coffee machines – that was one of my favorite parts. I love the free coffee!
What has been your most memorable experience so far?
At one of the conferences I went to, they asked us to do paintings as an activity. Instead of working on one by myself, they just threw a group of us together and we had to work together to create a piece of artwork portraying CHG's core values. We didn't know everyone beforehand, but we were all throwing out ideas, building off of each other and working together to create this picture that was a culmination of all our talents. This experience really stuck out to me because it was a great example of how CHG works. You have people with different talents and experiences, from different backgrounds, and we have to come together to work toward a common goal. With all the different roles everyone plays, we all work to ultimately get the doctor into a hospital. And here we got to paint a picture of it. In the end, we actually won a $50 gift card, which was cool, but the experience of all of us throwing out ideas and working together to paint this picture was a very cool experience.
Do you have any advice for new or potential CHG employees?
Come to work with your best attitude and always put your best foot forward, because when everyone comes to work fresh and with their best attitudes, we make it happen. When you have that good attitude, people are naturally drawn to you. You should choose to have a positive outlook and choose to see past the immediate challenge or the road block so that you can see what you can accomplish. Then we can all work together to achieve the goal. I believe that is the best way to be successful at CHG.