For Andy Sischo, provider advocate at CompHealth allied health staffing in Grand Rapids, Mich., the past nine months at CHG have been filled with growth, learning and fun.
From the warm welcome he received on his first day to the warm thanks he receives from the providers he works with, Andy says his work has been rewarding — and since joining CHG, he has never looked back. Read more about Andy's first impressions below!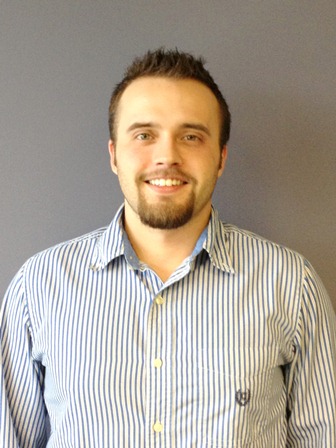 What do you do at CHG and what do you like about your job? I've recently transitioned from being a recruiter to being a provider advocate. What I like most about this new role is getting to keep the recruits that I've invested time in getting to know.
When did you come to CHG? July 2012.
How did you hear about CHG and what made you want to apply? Two other people I knew already worked here and had referred me. I wanted to apply because they both spoke so highly of this company.
Where were you working before you came to CHG? Before I started at CHG, I was working at Rx Optical as an optician. Haven't looked back since!
How has working at CHG compared to your other working experience? So far, working here has been significantly better in all aspects, really. Even if everything else was equal, just working with the people I do now would have made it worth the switch.
What can you tell me about your first day? That was quite a ways back now, but what I recall is many warm introductions throughout the office and a great lunch with my team.
What has been your most memorable experience so far? If we're really talking "most memorable," then it would have to be when I learned the hard way to make sure to ask more questions. One Friday, early on, I was so excited to get my first recruit confirmed. However, when Monday rolled around, we found out that the provider I had confirmed had one license revoked and one under review! I had to cancel the assignment, the days came off, and I felt like it was just a terrible situation.
However, not only my fearless leader, Debbie Kruse, but also everyone on the occupational therapy team and the client reps were extremely supportive. I think it was obvious that I felt pretty bad about the whole situation, but everyone's response was, "It's something that has happened to everybody! All you can do is take something from it and move forward."
After that learning experience, and a little more coaching from Debbie and the team about what might be a "red flag," everyone carried on with a smile.
How do you know that your work at CHG matters? Really, it's all the recognition for accomplishments. Things done well individually or things done well by the team, or the office as a whole, never seem to go unnoticed. In addition to that, booking someone in a great job and hearing my providers tell me how happy they are with a specific assignment or with CompHealth in general makes this job very rewarding.
Do you have any advice for new or potential CHG employees? There are going to be days when everything seems to be falling apart in front of you, but try not to freak out. There will always be someone with open arms willing to help. It could always be worse.