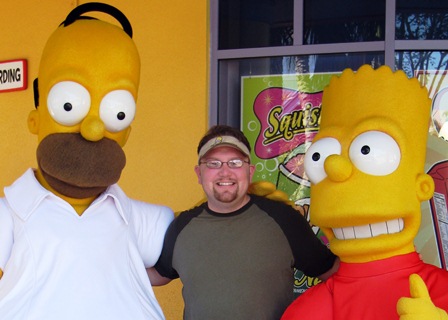 Name:
Trevor Nielson
Job Title:
Senior software engineer
Years with CHG:
Almost one.
What is your favorite part about working at CHG?
I really like that even though we work hard and there is a lot expected of us, there is a lot of effort put towards making the environment a fun place to be. There are all kinds of fun activities going on quite regularly, which I really appreciate. Especially in a career where a lot of people would typically spend the entire day heads-down and coding stuff up, I find that I have people around me that I enjoy being around. And people are concerned with my well-being in addition to the product we're trying to get out. I also like the various swag we get -- I'm a sucker for free stuff.
What is your most memorable experience at CHG?
My experience has been one of a community coming together working towards a single goal. There are a LOT of people involved in developing FOX and moving information between FOX and MatchMaker [programs used by many teams at CHG]. It seems like it would be really easy with the number of people involved to just get lost in the crowd and get frustrated. But everyone down here communicates so well that it really is like a big community. I feel totally comfortable approaching anyone on the floor about issues that I need help with, and I know that when I do, it seems like people are more than happy to put their best efforts in to help me out.
If someone asked you what you do, how would you answer them?
I do software development for a company that does job placement for medical specialists (like doctors and nurses).
Why did you choose to work at CHG?
I would have to say it was mainly because I felt like I would fit in well with the people I interviewed with. Also, the benefits here are amazing. There were a handful of other companies that I was choosing between, and these two factors made a pretty big difference when making my final decision.
What is your favorite core value at CHG?
Putting People First. It's nice to have managers that feel a work life balance is important.
What do you like to do when you aren't at work?
I love watching movies and TV. I'm seriously thinking about going to Comic-Con this year and would love to go be a part of the studio audience for an episode of The Big Bang Theory. I also really enjoy photography and art, and I love the outdoors and camping.
What is your hidden talent?
Well, if you know me, you know I don't hide very much -- maybe to a fault. But if I had to pick something I do that few know about, I would say that it's that I can drink a glass of water while doing a headstand. LOL. I have a car and motorcycle that I'm restoring, a 1974 VW Thing and a 1982 Yamaha Virago. That's pretty fun when I have the time.
If you could choose your last meal, what would it be?
It would have to be steak and pizza. Also, I would like crab legs from Crabby Joe's Crab Shack in Daytona Beach.
What five things would you take to a deserted island?
I'm assuming by the word "take" that I want to go to a deserted island and live like a hermit instead of me just getting stranded, because those are two substantially different lists. That being said, I would take a laptop, a satellite TV setup that had internet, a portable solar power station, a machete and a big cooking pot.
In a movie about your life, who would you choose to star as you?
Jason Statham, but I would take Robert Downey, Jr. as a second choice.