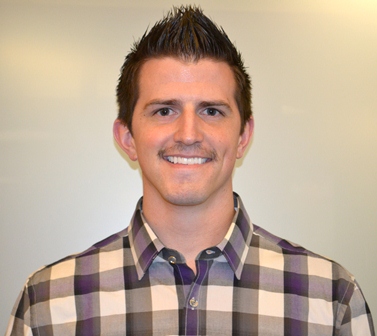 Name: Jon Arnell
Job title: Housing coordinator at CompHealth locum tenens in Salt Lake City, Utah
Years with CHG: 2
What is your favorite part about working at CHG? The people.
What is your most memorable experience at CHG? I had to act like Stuart (from MADtv) for one of CompHealth's Christmas videos.
If someone asked you what you do, how would you answer them? I find housing for doctors.
Why did you choose to work at CHG? My brother worked here at the time, and he told me how great it was.
What is your favorite core value at CHG and why? Integrity, because acting with integrity is in everything we do.
How do you know that your work at CHG matters? We are helping those patients who need a physician in their area.
What do you like to do when you aren't at work? Hang out with my wife and daughter and play ping pong.
What is your hidden talent? I can do a great peacock noise.
If you could choose your last meal, what would it be? A hamburger, fries, Dr. Pepper and some sushi on the side.
What five things would you take to a deserted island? My wife and child, a giraffe, TV and microwave.
In a movie about your life, who would you choose to star as you? George Clooney (with a mustache), and Justin Bieber as a younger me.