One of the most amazing facets of our Putting People First culture is that it doesn't just exist within our corporate walls — it's who we are as individuals outside of work, too. This is the story of one of our own whose compassion and caring not only allows him to excel in his role, but ripples outward to make a difference in our community in ways that are both meaningful for his family and connects back to the work he does every day.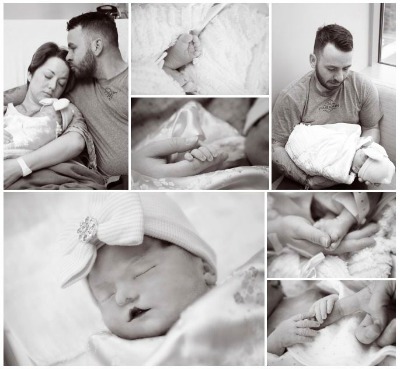 On May 24, 2016, Patrick Hinkle, a sales leader with our CompHealth locum tenens division, and his wife, Marki, expected to welcome a healthy baby girl into the world. Instead, their tiny infant had no heartbeat and was stillborn. For the next seven hours, Marki and Patrick cuddled and took photos with the little girl they named Harvi Monroe Hinkle. Not surprisingly, those short hours were taxing on the couple, but they were equally hard on their fragile first child. "We saw her tiny body falling apart right in front of us," said Marki in a press conference at the University of Utah Hospital. "It's something no parent should have to see." "After losing Harvi, we got really involved in the baby-loss community and began making meaningful connections with other loss parents," Patrick says.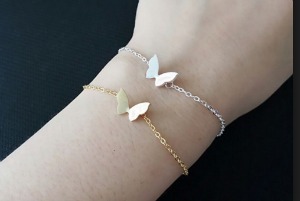 In the face of their own tragedy, the Hinkles wanted to make a difference for others like them by giving families more time to grieve with their stillborn babies. Through selling butterfly bracelets and pins in Harvi's honor, the couple raised several thousand dollars to purchase two Cuddle Cots. The portable cooling devices, which retail for about $3,000 each, are designed to be placed in the bassinet to preserve a stillborn baby's body, giving more time for goodbyes. "I remember wishing so badly that a Cuddle Cot would have been there on the day she was born so that we could have had more time with her," recalls Patrick. "Ever since we have been passionate about the fact that every hospital offering women's and newborn services should have access to these devices." Thanks to their fundraising efforts, the Hinkles have donated a Cuddle Cot to two Utah hospitals: St. Mark's Hospital and University of Utah Hospital. Patrick says his family's experience with the loss of their child has totally changed the way he looks at his job and the work we do at CHG.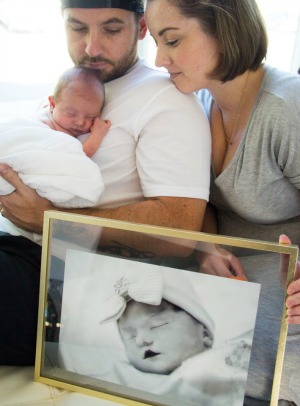 "It is really easy to sit back and think that making a difference is solely something that we talk about [at CHG], but I have witnessed it and it is something that we live," he says. "It is clear that the people here do truly make a difference and put people first." Thanks to support from his CompHealth family and others, fundraising in Harvi's memory continues as the couple sets their sights on donating a third Cuddle Cot to an area hospital. They've also expanded their family with the birth of daughter Lenix Rae (shown at left), born happy and healthy on August 15, 2017.
Read more about Patrick and Marki's story on their blog.