CHG ranks No. 29 on Computerworld magazine's "100 Best Places to Work in IT" list, jumping 71 slots from last year's ranking of 100!
IT vice president Mike Peterson announced the win to the IT team on June 13 at an ice cream social. He also awarded Paul Woodall, Windows system engineer, with a gift card for correctly guessing CHG's ranking on the list.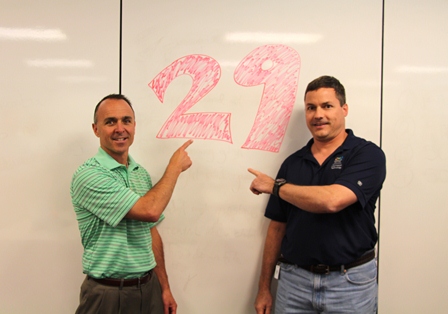 Mike Peterson, left, and Paul Woodall proudly display CHG's Computerworld ranking.

"We were thrilled to just be on the list last year, and we are ecstatic to go from 100 to 29 this year!" Mike Peterson says. "It just goes to show how hard everyone is working to make this a great place to be."
The Best Places to Work in Information Technology (IT) list is an annual ranking of the top 100 work environments for technology professionals by IDG's Computerworld. The list is compiled based on a comprehensive questionnaire regarding company offerings in categories such as benefits, diversity, career development, training and retention.
See more pictures of the IT team's celebration below!