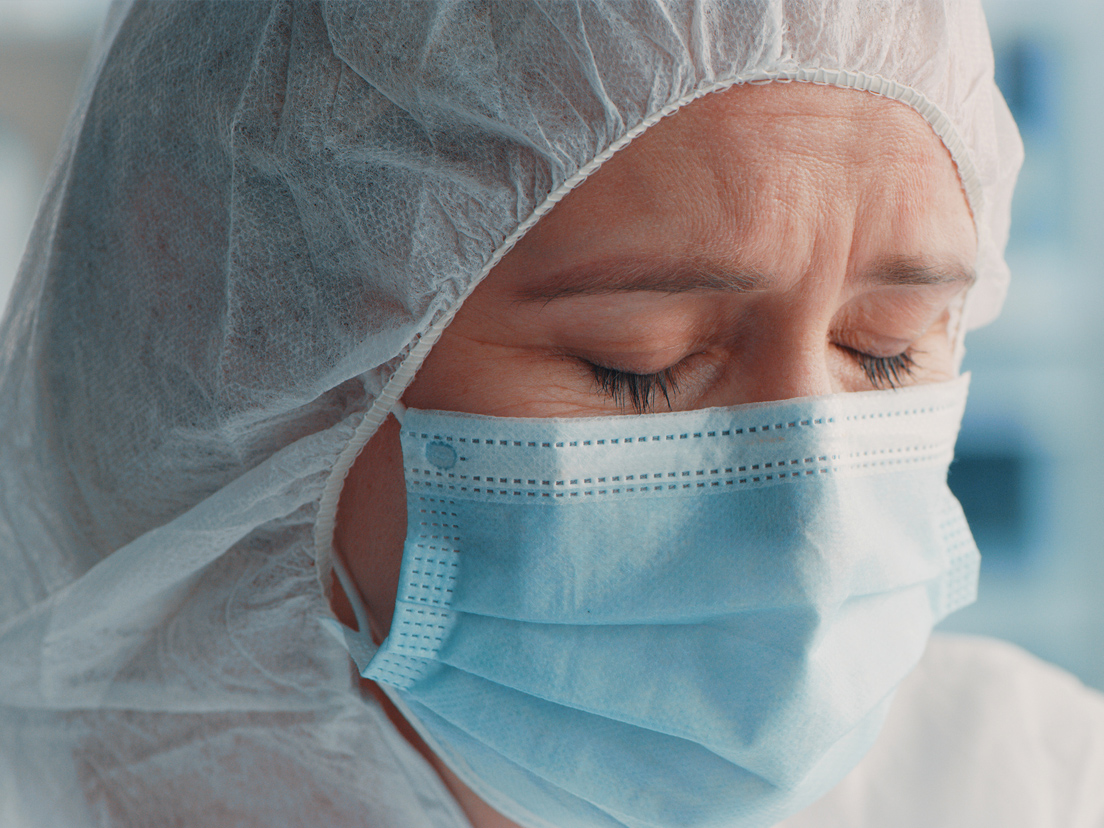 Burnout among healthcare providers isn't a new phenomenon. Even before the pandemic changed the world, burnout levels among physicians were astonishingly high. In 2019, more than 40% reported feeling burned out. As more clinicians are feeling the impact of a year of upheaval, healthcare leaders need to find ways to address provider burnout and make effective and sustainable changes to protect providers' mental health.
A whole new level of provider burnout
The effects of COVID-19 have exacerbated physician burnout. In a 2021 Medscape survey, nearly half of physicians (47%) reported that the pandemic has had a severe impact on their lives, and happiness levels have dropped by 20%, from 69% stating they were happy last year to only 49% this year.
Healthcare workers are also grappling with violations of their deeply-held beliefs — a concept known as moral injury — as they've been increasingly unable to care for patients at the quality level they were used to. In some understaffed units, nurses have stated patients likely died unnecessarily due to staffing shortages.
Starla Fincher, an ICU travel nurse who worked in Gainesville, Georgia, at the height of the pandemic recounts her experience caring for COVID patients: "There was literally nothing we could do for these patients, and as they're dying, their families couldn't be there. They are literally on the phone screaming to their loved ones, 'We love you; you have been the best daddy ever!' That's horrifying to witness."
In addition to these grim scenes, many providers worried about contracting the virus themselves. "The need to work cautiously so you don't contract the illness, and the anxiety associated with that every day, takes its toll," says Dr. Paul Langevin, a critical care physician who cared for COVID patients in New Jersey during the peak of the pandemic there.
This constant state of high-alert — added to an environment that already incites stress — has led many to worry about clinicians experiencing a sort of post-pandemic PTSD. "The question is: at what intensity does that PTSD exist in different clinicians?" asks Debra Williams, MD, FACEP, emergency medicine physician and founder of Dr. Deb Leads.
Burnout is complicated to fix
Burnout is caused by a combination of factors, and there is no simple solution. When asked what would help reduce burnout, physicians gave wide-ranging responses: increased compensation, a more manageable schedule, greater respect from colleagues, increased autonomy, more support staff, more reasonable patient loads, and fewer government regulations.
In fact, some believe burnout isn't a "problem" that can be "solved." Dike Drummond, MD, a family practice physician who founded The Happy MD, prefers to refer to burnout as a dilemma rather than a problem. "It's a never-ending balancing act, a battle between the energy that one burns in a day at work and at home versus their ability to recharge and maintain a positive energy balance," he says.
This balancing act, Dr. Drummond says, is extremely complex and different for every individual. "There is no more complex industry on the planet than healthcare delivery, and there's probably no more complex worker population to deal with in terms of stress than doctors, nurses, and other healthcare providers."
Wellness programs that work
One way healthcare organizations are trying to address that complexity is through wellness initiatives that focus on provider well-being. While these programs are becoming more popular, in order to be effective they need to include direct input from the providers themselves, according Dr. Drummond.
"Start asking people what stresses them out, and then address it," he says. "Teach them about stress management and burnout prevention. Get a crisis hotline up. Work some process improvement projects to take the friction out of the system. But do all of that based on physician feedback."
Dr. Williams, who is the current chair of the American College of Emergency Physicians (ACEP) well-being committee, says any wellness program needs to be available to physicians without stigma or punitive action. "They need to be able to admit that they need help working through what they've experienced." She says peer-to-peer engagement can be especially helpful in this context.
Ochsner Health is piloting an app that does just that, according to Melissa Love, VP of professional staff services and human resources. "It has caregivers who aren't clinical, so it's not a patient visit, but it's focused on social isolation and loneliness. It's reaching out to our employees and asking if they want to talk to someone," she says, adding that their goal is helping their caregivers talk with others who've experienced the same things.
In addition to mental health assistance, Dr. Williams says it's important to create space for clinicians to interact with each other in low-stress environments. "It's setting up social things, sponsoring a dinner," she says. "What works will be different with different generations, so you have to have a mixture of engaging tools that help people feel appreciated and build camaraderie between the clinicians."
Addressing systemic contributors to burnout
Providers have a responsibility for their own well-being, but most experts agree that personal actions alone cannot eliminate burnout — changes must be made at the organizational level to relieve the burden of providers.
"The term burnout gives the healthcare system a pass because it places the burden on individual physicians. I think physicians have stepped up to the plate and done everything they possibly could to help themselves be as healthy as possible," says Dr. Williams. She believes burnout will only be reduced when other stakeholders — healthcare systems, contract management groups, and insurers — come together to make changes as well.
Dr. Williams mentions a variety of areas where improvements could be made, starting with giving physicians more freedom to make decisions about patient treatment. "They have the expertise and training, so drop the barriers of the formulary, the regulations, the things that cause divisiveness between the administration and the clinicians," she says.
EMRs are also a factor in physician burnout. "They were designed to maximize coding, billing, and revenue, and are quite onerous for a clinician. Look at your EMR system. Is it beneficial across the board? Is it as user-friendly as it can be for your physicians?" Dr. Williams asks.
Changes to regulations and insurance requirements could also reduce many of the bureaucratic tasks that contribute to clinician burnout. "Work with the legislators on big regulatory issues, and work with the insurers on appropriate reimbursements and eliminating the onerous preapproval process," says Dr. Williams.
Now is the time to act
Both Dr. Williams and Dr. Drummond say it's essential for healthcare organizations to act now to help their providers avoid burnout and maintain good mental health.
"We're seeing a varied response from healthcare systems," Dr. Williams says. "The question is, have they paid short-term lip service to what they've heard and seen, or will they truly bring physicians to the table and make a conscious effort to correct the system portion of what's causing burnout and moral injury? That's the million-dollar question."
Dr. Drummond asserts that organizations need to be ready to provide support to their clinicians right now. "In 2002 in Toronto they went through a SARS epidemic, and what we saw in the wake of this infection disease disaster was a peak in depression, disability, and suicide 12-18 months afterward," Dr. Drummond says. As the COVID-19 pandemic begins to wind down, he believes the same pattern will repeat itself here.
Dr. Williams also believes organizations must take immediate action to care for their clinicians. "The C-suite has to be willing to listen and meet in the middle. We are all highly aware of profit margins, but if you have clinicians that are not happy, productive, or taking good care of patients, then that affects that entity as well," she says. "They have to be willing to do what it takes to make sure that their clinicians are healthy, are in a good place mentally, and can take the best care of their patients, and the profits will fall into place."
CHG can provide your healthcare facility with the doctors, nurses, and allied professionals you need to provide the best care for your community. Contact us by phone at 866.588.5996 or email at ecs.contact@chghealthcare.com.