Whether it's shooting pool, throwing darts or challenging co-workers to a favorite board game, our people now have a place to let loose with their friends at work. After more than six months of planning, building and incorporating employee feedback, the CHG Fun Room and expanded employee gym is now open at the Salt Lake office.
"CHG is synonymous with fun," says Maryam Pedraza, cultural enhancement specialist. "As a company, we decided to designate an actual space for our people to kick back and enjoy themselves!"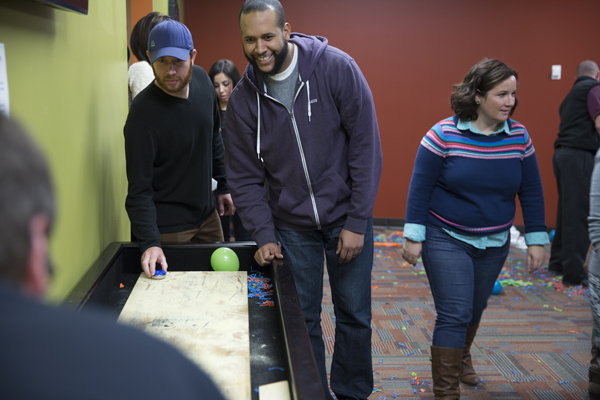 The room, which is based entirely on feedback from the 2013 Employee Opinion Survey, includes a variety of exciting toys for our people to enjoy, including a pool table, ping pong table, pinball machine, arcade game machine, foosball table, shuffle board, electronic dart board, TV, game tables and chairs and more.
Not to be overlooked is the expanded gym equipment, including a row machine, two new exercise bikes, two new treadmills, a plate-loaded leg press, new exercise balls and new neoprene dumbbells, just to name a few of the pieces.
"We're also excited about the addition of a beautiful new workout room for classes like yoga, Zumba and boot camp," wellness manager Jen Homel shares. "We hope features like a full sound system and a big screen TV and XBox for workout games will help encourage people to be more active during the workday."
The opening of the CHG Fun Room kicked off with a ribbon-cutting event for employees to attend and see the new facilities. Senior leaders committed to hanging out with our people during the lunch hour every day this coming week, and are looking forward to showing off their pool and ping pong skills.