More than a month has passed since the Sandy Hook tragedy, but people in the small Connecticut town continue to receive worldwide support.
Missy Horan in the Norwalk office, whose son attended the school, has been bombarded with copies of "A Terrible Thing Happened," a book written for children who are victims of violence or abuse. Contributors have more than tripled her goal of collecting 600 books.
"My book drive, which was the brainchild of my sister, a child psychologist, and my mother, a teacher, has produced 2,017 copies — and they are still coming," Missy says. "We provided hundreds of copies to our public library and the youth services that are providing most of the therapy for our community. I recently dropped off a shipment to Kids in Crisis, not far from our Norwalk office."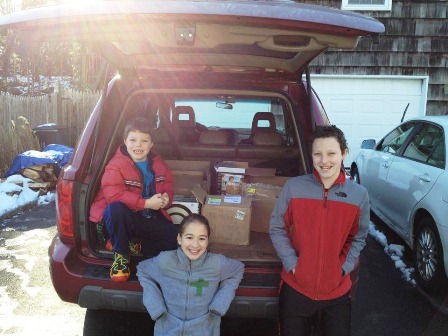 Missy Horan's children prepare to drop off books at a local shelter.

Additionally, the Connecticut Parent Teacher Student Association (PTSA) in Hamden has received millions of snowflakes from people in more than 50 countries — enough to decorate each school in the area and still have boxes left over.
See the snowflakes and the volunteers collecting them in this CBS News story!