More than 2,800 people from across Utah came together to celebrate the accomplishments and potential of women and girls in the Girls on the Run 5K on May 31 in Salt Lake City. Girls on the Run is a national organization that inspires girls ages 8-14 to take charge of their lives and define the future on their terms. CHG's people were there to show their support thanks to programs such as Employee Network Groups and Volunteer Time Off (VTO).These benefits are part of the Heart of CHG, an initiative to increase opportunities for our employees to care for each other and their communities.
Networking for a cause
CHG's Women's Workforce — an Employee Network Group that provides a forum to discuss women's struggles and accomplishments in the workplace — sponsored the event. In addition to serving as a champion for women at CHG, the group says it is "a voice in the community for women's rights."
Aubree Nash, a licensing coordinator for CompHealth locum tenens and president of the group, heard about the event from a co-worker whose daughter has participated in Girls on the Run.
"After looking into what the group stands for and their focus, we felt it was right down our alley" she explains. "Our group was truly honored to participate as a sponsor and support future strong women in our community."
Here is a photo of the Women's Workforce booth, which featured temporary tattoos and "healthcare plinko" to introduce participants to different healthcare careers: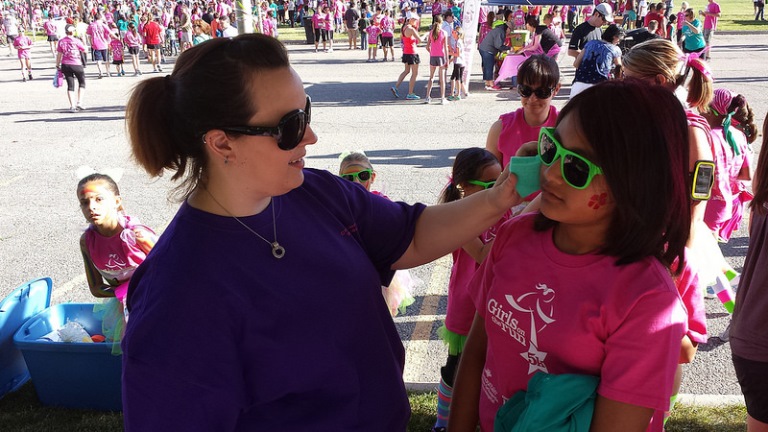 Time off to make a difference
In addition to the Women's Workforce's sponsorship, several individuals from CHG participated in the event as parents, running buddies and coaches.
Haylie Evans, an operations manager with CompHealth allied health staffing, used her Volunteer Time Off, a benefit CHG gives our people, to serve as a Girls on the Run coach. In this role, she mentored girls ages 8-11 on recognizing their inner strength through positive emotional, social, mental and physical development. The twelve-week program culminated with the 5K race. To make the event even more special for the girls, Haylie and the other coaches of the team gave them neon tutus to wear during the race.
"I usually count myself out when volunteer opportunities start before 4 p.m., but VTO hours made it possible for me to be part of this unique program," Haylie shares. "I loved seeing the neon tutus coming down the road. I was so proud of my girls!"
At the event, Haylie (far left, front) posed for a photo with her team, which included twelve girls and four coaches:


To find out more about how you can get involved, visit the Girls on the Run website.
This story illustrates just one of the ways CHG takes care of our communities and each other. If you think you'd fit in well with a company that makes it easy to make a difference, visit our careers page.