When the CompHealth permanent placement team in Norwalk, Conn., makes a pizza, they don't stop at cheese and pepperoni; they go the extra mile with pesto, truffle oil and even ziti.
On April 10, John Giglietta, vice president of CompHealth permanent placement, brought in a six-foot grill, pizza dough and mozzarella for an extra cheesy team-building event.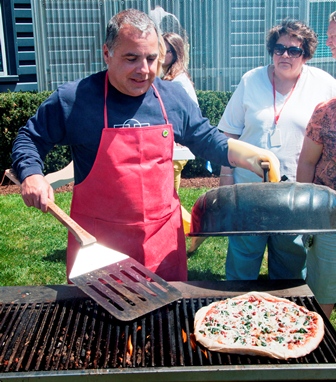 Robin Poole, a recruiter at CompHealth permanent placement, says that the employees broke into teams of four with the challenge of making a pizza that would make even an Italian chef jealous.
"It was up to each team to supply a bit of imagination with toppings," Robin says. "John emphasized that it wasn't a competition, but you couldn't tell each team that! The show was on!
In the end, the teams turned out a number of pizzas, topped with everything from traditional pepperoni and sausage - to fancy fontina cheese and prosciutto. There was even a daring pizza loaded with ziti.
"It was great fun and a great team-building exercise," Robin says. "Speaking of exercise, that's what we all needed when all was said and done!"