First Impressions all about getting the inside scoop on exactly what our newest employees think of CHG.
His first days at CHG may have been a blur, but in the three months he has been here, James Boley, a production designer with CHG's corporate marketing department, has attempted partner yoga, taken home a third-place prize in a chili cook-off and assisted with the development of creative work for our family of companies. James may have been hesitant to look into CHG at first, but check out what changed his mind and learn about his first impressions of CHG.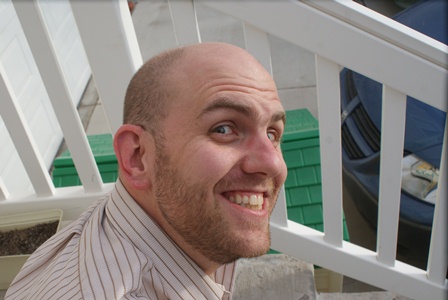 What do you do at CHG and what do you like about your job?
My official title is production artist. I have the unique opportunity to touch all of CHG's brands, including Weatherby Healthcare, CompHealth, Foundation Medical Staffing and RN Network as well as our internal employee promotions. I help with print and web projects, from finding images to designing layouts for our employee health and wellness programs.
I love the people I work with. Everybody is very qualified and loves their job. I have yet to hear anyone say that they don't like what they do or who they work for, and for me, that is a first.
When did you come to CHG?
I started December 19, though my interview process started in September.
How did you hear about CHG and what made you want to apply?
I have a good friend who works here whom I hate to love, or love to hate, I'm not sure which yet. He told me about the position, but I told him I wasn't interested. By the third request to apply, and after a little research from me, I realized that this was an opportunity I couldn't pass up.
While I was sitting in the lobby for my first interview, a person approached me and asked if I was interviewing for a position. After I told him I was, he shook my hand and told me exactly what I needed to do to get a job here. I haven't seen him since, but I am glad I am here.
What really made me want to come aboard was the Rock Your Body competition. I recently lost 92 pounds, and I love the idea of a company encouraging and rewarding employees to be healthy.
Where were you working before you came to CHG?
I was the production manager for FranklinCovey.
How has working at CHG compared to your other working experience?
I have been involved with a few companies that claim they put their people first, but at the end of the day, every employee was a number and a potential budget draw. CHG is sincerely different. Listening to CHG's CEO, Mike Weinholtz, I can tell he means what he says. I have had the opportunity to help in the design process of the health and wellness materials for employees, and every person involved in the program cares about what they are doing and wants people to succeed. This is in stark contrast to every other company I have been with.
Could you tell me about your first day?
It was a rush. I remember sitting down, reading over a few items and getting right to work.
What has been your most memorable experience so far?
My good friend, and profound idiot, Phil Hunter, signed me up for partner yoga with a co-worker. I was a little apprehensive at first, but I learned that I was not too tough to do yoga, and if anything, I am not quite tough enough for yoga. I had a blast.