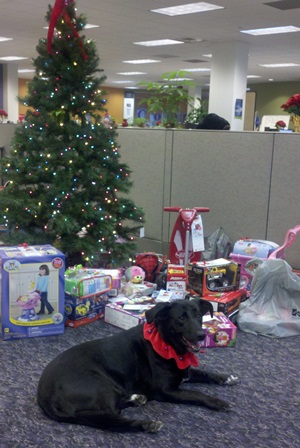 It's not every day that a shadow can brighten the day — but when Shadow is a black labrador retriever, it certainly can.
Following the Dec. 14 Newtown, Conn. tragedy, John Giglietta, vice president of the CompHealth permanent placement division in Norwalk, Conn., brought in his daughter's certified therapy dog, Shadow, to visit employees. Wearing a special holiday collar and looking every bit like he was on a mission from Santa himself, Shadow gave happy doggy grins, snuggled up for hugs and did his best to brighten spirits.
Shadow wasn't the only one on a mission to brighten a difficult holiday season. The Norwalk office also put up a Salvation Army Angel Tree, decorated with paper tags with the first name, age and gender of a child in need. Employees then chose a tag and purchased appropriate gifts for the child described on the tag.
Learn more about the ways our Norwalk office — and people in all of our offices — are showing support for Sandy Hook Elementary students in this news story!