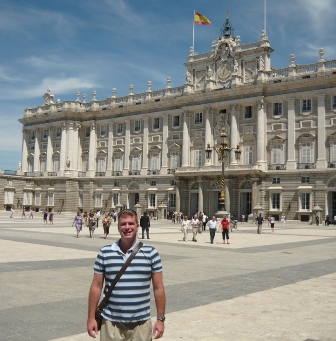 Name:
Todd Cortese
Job title:
Travel agent at CHG in Fort Lauderdale, Fla.
Years with CHG:
Six
What is your favorite part about working at CHG?
We have the best people in the world. Period. My co-workers are amazing. I also love my "work from home" day.
What is your most memorable experience at CHG?
My first week with the company was Employee Appreciation Week. I just remember a big welcome and a free massage. I thought this was the best company in the world. And it still is.
If someone asked you what you do, how would you answer them?
I arrange travel for our providers. I try to make sure no deal falls through on my watch, no matter what the time constraints.
Why did you choose to work at CHG?
A friend referred me. Even though he is no longer here, I still thank him.
What is your favorite core value at CHG and why?
I was a 2010 Putting People First award winner, and I got to join everyone on the President's Club cruise. It was a thrill. I wish I could qualify every year.
How do you know that your work at CHG matters?
I know because everyone is so appreciative. Our senior leaders in Fort Lauderdale and Salt Lake City are an amazing bunch and very supportive.
What do you like to do when you aren't at work?
Bike, cook, eat, drink, read, watch movies and of course, more than anything, vacation.
What is your hidden talent?
That's for me to know and you to find out.
If you could choose your last meal, what would it be?
Pepperoni pizza, lobster, beef wellington and French pastries. Definitely nothing that's good for me.
What five things would you take to a deserted island?
My Nook, my iPod, my partner, my dog and gourmet food and drink.
In a movie about your life, who would you choose to star as you?
I guess Anderson Cooper, because I used to get all the look-a-like comments.