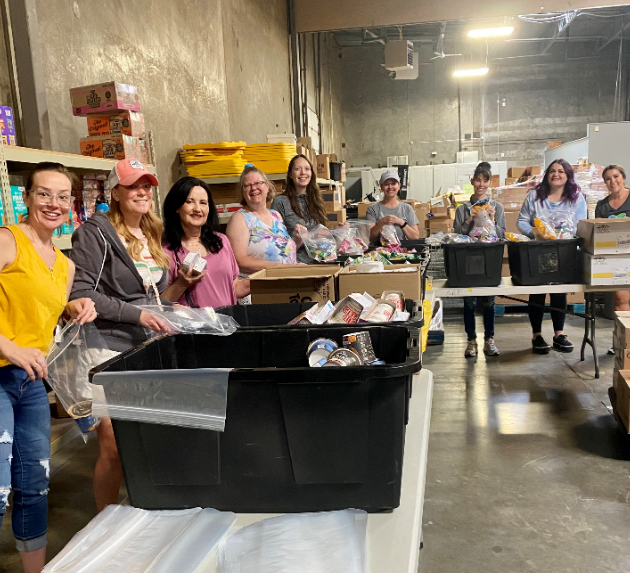 At CHG Healthcare, we strive to make a difference in the lives of those we serve — our people, our providers, our clients, and our communities. To help support our purpose, we offer personal volunteer time off (VTO) for causes we're passionate about as individuals. And to take service (and fun) to the next level, our teams have VTO as well. Here's a peek at what some of them are doing.
Jumping in with both feet
The Mae Volen Senior Center is an adult daycare and memory center in Boca Raton, Florida. It's also become a favorite place to volunteer for RNnetwork, our travel nurse staffing division. The pandemic put a stop to volunteer visits but now the team is back in full swing — literally. RNnetwork team members recently took to the dance floor to give some seniors a chance to turn back the clock and dust off their dance moves.
Jennifer Haskell, an RNnetwork sales training specialist, says this was the first time the team has been able to visit since last February. They're hoping to make it a monthly affair that's part of their new hire onboarding process. She says new employees are astonished when they learn they can volunteer and still be paid.
The visit is completely voluntary, but Jennifer says the response is almost always the same: "Even people who were a little apprehensive say, 'I'm so glad I came! I want to come back again!'" Jennifer says.
Feeding the kids
Packing a lunch can be a chore. Packing 1,600 of them can be a blast — especially when you're working with your closest work pals.
CompHealth, a physician staffing division of CHG Healthcare, recently packed that many meal kits for children in a Salt Lake City, Utah, school district. Many of the district's kids are at risk for food insecurity — especially in the summer when school cafeterias are closed.
Trina Gonzales, a business systems analyst, and three dozen of her CompHealth teammates used 80 hours of team VTO to help assemble kits. Each package contained items like granola bars, fruit cups, noodles, and other easier-to-prepare items. A local foundation provided the food and our employees were happy to chip in with the volunteer power to put the kits together.
"I loved volunteering alongside my team," says Kelly Ladwig, a support manager. "My experience was very fulfilling. There is a huge need in our community with food insecurity and I was grateful to help make a difference!"
In addition to team VTO, every year CHG sponsors Making a Difference Week. It's a chance to have fun and raise money for causes that are near and dear to us.
If you want to work at a company that does more than just talk about caring, you're our kind of person. Check out our latest job openings and join us!