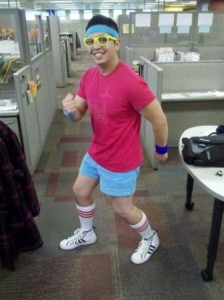 Name: Miguel Martinez
Job Title: Customer service specialist for CHG's accounts receivable team
Years with CHG: Almost 4
What is your favorite part about working at CHG? The company's leadership. From my immediate supervisor to the executive directors, I know that the leaders at CHG give me the leadership, vision, mission and goals to strive for to become a better and more knowledgeable employee.
What one story best describes your experience at CHG? Three years ago, my team participated in the group costume contest for the company's Halloween party; we performed the Thriller dance. I impersonated Michael Jackson, and I had my zombie backup dancers. We had so much fun putting together the choreography and costumes. People still remember that Halloween party and our memorable dance, and I still get compliments about my Michael Jackson impersonation.
If someone asked you what you do, how would you answer them? I do the fun stuff! I work in the Accounts Receivable department as a customer relations specialist, and when we're not working, we are eating, partying and laughing.
Why did you choose to work at CHG? Actually, CHG chose me. I was working on my Associates degree at LDS Business College, and I uploaded my resume to the career services' website. About a month after, I received a call from talent acquisition asking me if I would like to apply for the accounts receivable position they had open. I scheduled an interview with the managers, and I got the job the same day.
What is your favorite event that you have participated in at CHG and why? Besides all the Halloween events; one of my favorite events was when I was asked, along with several other employees, to participate in the Live United commercial. It was one of the funniest experiences, because soon after the commercial came out, I started to receive phone calls from friends and family saying that they saw me on TV. One time, I was introduced to one of my friends' girlfriend, and she told me that I looked really familiar. After, a minute she said: "Oh yea! You are on that 'ÄòWe Belong Together' commercial, right?" I asked her if she wanted my autograph, but she said no.
What is your favorite Core Value at CHG? Putting people first. When CHG managers look at their people, they see intelligent, motivated, trustworthy individuals; the most valuable strategic asset the company can have. CHG looks at its people as the fundamental resources on which the company's success rests. This core value has driven us to be number 27 on Fortune's list of 100 Best companies to work for.
If you could choose your last meal, what would it be? Street tacos!
What five things would you take to a deserted island? Straw (for coconut juice), my iPod, a lifetime supply of Mach 3 razors and Gillette's shaving cream, Swiss army knife and CompHealth's genie. Duh!
In a movie about your life, who would you choose to star as you? Fez (Wilmer Valderrama) from That 70's Show or Gael Garcia Bernal.